4 tags
Wlad should box Fury now
Wladimir Klitschko took his professional record to 60-3 with a dominate sixth round stoppage of lightly regarded Francesco Pianeta. The sad thing is, few people are talking about an excellent heavyweight champion defending his title.[[MORE]] If Klitschko is going to box for a few more years it would be good to see him in high profile bouts, such as the David Haye fight. Although there isn't...
3 tags
Mayweather is the boss at 147. What next?
Floyd Mayweather Jr. comfortably outboxed Robert Guerrero, and without even a moment of bother.  He looked right at home boxing at welterweight, his speed was there, and the power in his right hand took the fight out of the challenger. Now that people seem satisfied that he's definitely still got it, they want to know who his next opponent will be.[[MORE]] Mayweather calls the shots these days...
4 tags
Mayweather vs Guerrero Preview
Robert Guerrero said he is the man to take boxing's most cherished '0', and feels that undefeated pound-for-pound king, Floyd Mayweather Jr., is there for the taking. A lot of people would like to believe him, but why should we?  Guerrero has fought twice at welterweight, only stopped two of his opponents since the start of 2009, and those two had a combined 36 losses heading into their...
4 tags
3 tags
"He's a young chap who, of course, doesn't know his limits. They have..."
– Heavyweight champion Wladimir Klitschko expects to give challenger Francesco Pianeta a boxing lesson when they meet on May 4.
2 tags
10-8's, Paranoia, and More Paranoia.
Since the Tim Bradley v Ruslan Provodnikov fight in March there has been a lot of discussion about when to give a 10-8 round.  During the Amir Khan, Juilo Diaz fight this past Saturday, BoxNation pundit Paul Smith said that he would not give a 10-8 round without a knockdown.  Is there a right or wrong?  No.  It's open to interpretation.  This is boxing.  Let's keep it vague.[[MORE]] Is Khan...
3 tags
"I have respect for Martin, but there is no doubt in my mind that this fight is..."
– Middleweight champion Sergio Martinez is so happy with the way his camp has gone that he sees no need to play his cards close to his chest ahead of tomorrow nights title fight with Martin Murray in Buenos Aries.
1 tag
4 tags
Murray Trainer Talks About Martinez Fight
Personal trainer Martin Cullen has been working with Martin Murray since he was an amateur seven years ago, and says his man is in top condition for middleweight champion Sergio Martinez. "Everything has been perfect.  He gets fitter, stronger and faster every camp.  It's all progress, and he's getting better and better every fight."[[MORE]] The occasion could not be any bigger for the...
5 tags
A tough one to score
Saul Alvarez won a unanimous decision over Austin Trout, and not everybody was happy with the scoring.  I thought the result was the right one, but would understand a lot of the reasoning from those who'd scored the fight for Trout.  Some fights are just very tough to call. There were similarities to last weekends Rigondeaux v Donaire fight, and it started with Trout playing the role of the...
1 tag
4 tags
Trout v Alvarez is a genuine pick'em and no result...
Certain boxers are so technically sound that they become too dangerous for their own good and don't get the fights they deserve. Austin Trout was looking like this type of fighter until he was given his chance against Puerto Rico's Miguel Cotto last year. Golden Boy Promotions had grand plans to make an easy to promote fight between Cotto and their new sensation, Saul 'Canelo' Alvarez. This...
4 tags
Bad luck for Kell Brook, but good business for...
Not too long ago Eddie Hearn was the new kid on the block in the boxing game, and regardless of how you feel about his stable of boxers taking over the Sky Sports boxing budget, he is doing some great business for Matchroom Boxing. Once it was confirmed that Kell Brook had pulled out of his world title shot against Devon Alexander, Hearn smoothly arranged for one of his less glamourous fighters...
2 tags
A poem by Muhammad Ali ahead of the Sonny Liston...
"Clay comes out to meet Liston, Liston starts to retreat. If Liston goes back an inch further He'll end up in a ring side seat. Clay swings with his left, Clay swings with his right. Look like young Cassius will carry the fight. Liston keeps backing up but there's not enough room, It's a matter of time till Clay lowers the boom. Now Liston disappears from view. The crowd is getting...
4 tags
TIME TO ADMIRE RIGONDEAUX
Guillermo Rigondeaux boxed beautifully and won his super-bantamweight unification fight against Nonito Donaire simply because he forced the Filipino to fight his fight. It was tense, it was tactical, but Rigondeaux landed more punches, seriously worried Donaire in the final round and was a worthy winner Saturday night in New York. The fight was a clash of styles, and largely difficult to...
3 tags
PLAY BALL
This excerpt is taken from Kevin Mitchell's book, Jacob's Beach: The Mob, The Garden, and The Golden Age of Boxing. It touches on matchmaking and the control that a handful of people, the International Boxing Managers' Guild, had over boxers and the sport itself mainly during the 1950's.  Sound familiar?[[MORE]] 'If you did not agree to the terms of the guild, if you did not sign with a manager...
3 tags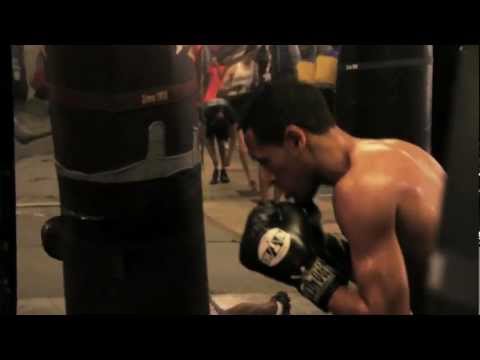 4 tags
"Would you want to see Rios Alvarado III?"
– HBO show their sense of humour by politely asking the question after Mike Alvarado and Brandon Rios produced another classic.
5 tags
Bellew, Chilemba And Their Missed Opportunity.
Tony Bellew seemed to spend a lot of energy the past few days putting the eyes on Issac Chilemba, but in his post-fight interview the look of disappointment and a blown opportunity was written all over his face. Although their WBC light-heavyweight eliminator fight was scored a draw, both fighters felt they'd done enough to get the decision.  They will be kicking themselves, but neither really...
4 tags
"I'm going to hurt him, it's as simple as that - I'm bringing..."
– Tony Bellew ahead of his WBC light-heavyweight title eliminator fight against Issac Chilemba.
4 tags
5 tags
NO TRUST
The welterweight division is certainly a hot one with so many satisfying fights to be made, but I cannot get my head around the 147-pound rankings of Ring Magazine which are shown below. Putting aside the idea that these lists are debatable, you shouldn't have readers demanding that you provide the logic along side your list.[[MORE]] Champion:  Vacant. Floyd Mayweather  Juan Manuel Marquez ...
5 tags
Schulberg Factor
"I'm convinced Hagler won the fight; a draw, and the retention of the title, was the very least he deserved." These were the words of the great boxing writer Hugh McIlvanney, on the contentious outcome of the Sugar Ray Leonard v Marvelous Marvin Hagler middleweight fight in 1987. McIlvanney wrote about Leonard's understanding of the ringside judges perception, and after the fight the...
2 tags
Variety
If you're starting to get frustrated that your dedication in the gym is not giving you the results you want, it is probably time to change your training routine.[[MORE]] Even if you're going to the gym religiously and putting the effort in, if you're doing the same exercises your body will catch on and not respond as it used to. It may not hurt to have a session with a personal trainer,...
2 tags
Please Stop Talking
The guy on his first day at the gym never looks at himself in the mirror.  Neither do the biggest guys in the gym.  It's the guys who've been in the gym for six months and are starting to fall in love with themselves who can't resist a peak. What does this have to do with boxing?[[MORE]] When a fighter is on the way up or feels he's being avoided, he can boast and call people out.  We...
4 tags
4 tags
Benn v Eubank 1 - Revisited
Nigel Benn was 26 years old when he defended his WBO middleweight title against Chris Eubank, who was two years younger as the challenger.   Benn had lost once in his career, 18 months earlier to Michael Watson.  Eubank had never lost in 24 professional fights.[[MORE]] Three years later they met again for a second time and the rivalry is still fondly remembered by boxing fans, more proof...
5 tags
Broner v Rees Preview
Adrien Broner is one of the most talked about boxers these days.  He is considered better than anybody in his weight class and most people think he'll clean up one or two divisions above him.  Apparently Gavin Rees has no chance of victory. Most people thought Broner would be tested in his most recent fight when he moved up to lightweight and challenged Antonio DeMarco.  The fight was easy for...
4 tags
"The better Carl looks the bigger the fight between the two of us becomes. That..."
– Scott Quigg on rival Carl Frampton ahead of the Kiko Martinez fight.
5 tags
Frampton v Martinez
Finally Carl Frampton and Kiko Martinez will meet and box, in what seems to be a genuinely personal grudge match.  They should have met ages ago, and both camps lay blame with the other. The delay has been positive in as much as the fight now counts for a lot more, mainly because Frampton has been busy and excelled, looking good in his four fights during 2012.[[MORE]] Martinez wasn't quite...
4 tags
4 tags
Fury Shows Respect
In the current issue of Boxing News, Tyson Fury showed what is more likely to be his true personality, rather than the pantomime villian he often displays.[[MORE]] Fury was interviewed by Donald McRae and when the topic of David Price came up, the big man from Manchester was very respectful towards Price. He acknowledged that Price has a lot of talent, claiming Liverpool's finest...
5 tags
What Now For Trout?
Austin Trout is probably still, and rightfully so, basking in the glory of his greatest professional boxing achievement, his reasonably comfortable win against Miguel Cotto.[[MORE]] But now what?  Who will he fight next?  Or more importantly, what excuses will be made by the best 154-pound boxers on the planet to avoid a big, strong, mature, and prime southpaw? Without a doubt (pardon the pun)...
3 tags
A People's Champ?
Is Tony Bellew the next British boxer to have the lion's share of support from the sporting public?  Why shouldn't he?  He has a natural rapport with people, and seems to genuinely relate to them. [[MORE]] Bellew was known as a bit of a nutter prior to his loss to Nathan Cleverly, but since that fight, he has gone from strength to strength and his popularity continues to rise....
4 tags
Richard Schaefer
These were the comments by Golden Boy Promotions CEO Richard Schaefer after Ricky Hatton's ninth round stoppage by Vyacheslav Senchenko.  [[MORE]] "I don't think that Ricky Hatton should let his head hang, and that he should build on this," said Schaefer. "If he should want to have a [rematch] against Paulie Malignaggi, and fight for the WBA welterweight...
3 tags
"It's a great game of poker, this purse bid situation, and you've got to play..."
– Boxing promoter Eddie Hearn on the potential IBF welterweight title fight between Devon Alexander and Kell Brook.
2 tags
Klitschko Film
I love documentaries, and this was a good one.   Perhaps a bit of propaganda as Vitali is running for public office in the Ukraine?  Regardless, it's difficult not to respect the brothers.  [[MORE]] The older footage of the brothers as they find their feet in boxing is worth it alone for hardcore fans of the sport. Funny and entertaining.  Watch it. 
3 tags
Best Tweets Ever
Twitter has been a bit boring lately, in my opinion.  Some days I make myself sick tuning in for entertainment or news.  But then I think of my favorite two tweets of all time.[[MORE]] This one is my personal favorite. @FrankMaloney (March 01, 2012) - what a nice lay intoday just woke up 5am . What happen to my dogs they be shave to the bone, where all there fur gone ? Normally when you...
3 tags
Povetkin KO's Rahman
Many years ago a young, aspiring boxing promoter had a brief meeting with Don King.  He asked King how he could make it — it being money — in the boxing game.[[MORE]] King told him to find a white heavyweight, get him some easy wins, market the hell out of him, secure him a world title shot, and then count the money. Last nights fight between Hasim Rahman and WBA champion Alexander...
3 tags
Don King
Almost 40 years has passed since Don King announced himself as a serious boxing promoter by arranging the George Foreman v Muhammad Ali heavyweight title fight.[[MORE]] The 1980's were really about the stamp that King and Mike Tyson left on the heavyweight division. There have been many accusations and investigations against King along the way, but he has been relatively quiet the past few...
3 tags
Why An Ice Bath?
Why would anybody volunteer to sit in a bath filled with ice for 6-10 minutes? Recovery is the answer.[[MORE]] Athletes are always looking for an edge, and an ice bath is a well known option to help speed up recovery time for the muscles and body. What does an ice bath do for you? Blood vessels bring oxygen to the tissues and remove waste products of exercise, the most common being lactic...
3 tags
Well Done Golden Boy
There has been some really good boxing lately but the Golden Boy Promotions show on October 20 (broadcast on BoxNation) deserves a special mention due to the quality and depth of the card.[[MORE]] Danny Garcia v Erik Morales  Paulie Malignaggi v Pablo Cesar Cano Peter Quillin v Hassan N'Dam N'Jikam AND…. Randall Bailey v Devon Alexander Love to see a show with more than...
3 tags
Hatton v Senchenko make sense
Ricky Hatton v Vyacheslav Senchenko makes perfect sense for both fighters, and I doubt either could have found a better opponent to face next.  This works for several reasons.[[MORE]] Hatton will have been out of the ring for just over three years by the time he begins the second part of his boxing career in November.  He will be 34 years old, which isn't ancient, but time is not on his side. He...
4 tags
Light-Heavyweights
Nathan Cleverly v Tony Bellew is the only light-heavyweight fight that I want to see.[[MORE]] Chad Dawson against either of those would be interesting, but only to see how Cleverly or Bellew would fare.  Dawson seems like a good guy and he's very talented, but it would be the performance of Cleverly or Bellew that i'd tune in for. Hopkins?  I could care less if he ever fights again.  There is no...
2 tags
Jeff Lacy II?
Adrien Broner sort of looks like Floyd Mayweather Jr. when he fights.  He must be good.  Should he? [[MORE]] He hasn't really fought anybody.  He was a big super-featherweight — which wasn't his fault — but now he's going up in weight (hopefully he can be bothered to make 135) and if he wants to become a superstar, at some point he will have to take a risk. But how good is Broner? ...
3 tags
World Class? Not yet.
Kell Brook.  Age 26.  No world title fight yet.  Age 26!  Kell Brook has been around forever!  Hasn't he?[[MORE]] By the age of 26:  Naseem Hamed has been in 14 world title fights.  Floyd Mayweather Jr. had been in 12 world title fights.  By that age Manny Pacquiao had been fighting in world title fights for six years. Brook should beat his next opponent, Hector Saldivia, and hopefully this...
3 tags
Povetkin. Who are you?
What do you know about WBA heavyweight champion Alexander Povetkin?[[MORE]] He's 24-0.  He's stopped 16 of his opponents.  He won the super-heavyweight gold medal at the 2004 summer olympics in Athens, and he recently had his 33rd birthday. Would the average sports fan on the street know Povetkin if he walked by? Hopefully Povetkin can finally get a reasonable deal with one of the Klitschko's...
2 tags
"A champion is someone who gets up when he can't."
– Jack Dempsey
3 tags
Burns v Mitchell
Five days before these two lightweight stars meet, you can back Ricky Burns at 8/15, and Kevin Mitchell at 6/4.[[MORE]] 25/1 for the draw if you're feeling brave (which in this case may not be a bad move).
2 tags
Rivalry.
Despite the controversies, two living legends of the sport have agreed to box each other for the fourth time.  [[MORE]] On December 8, 2012, Manny Pacquiao and Juan Manual Marquez will square off, probably fight 12 hard rounds, and have boxing fans scratching their heads. Great rivalries have been such a huge part of boxing.  Win or lose (normally a bit of both), a great rivalry captures fans...